Day 2 at COP 15
Introduction: I am attending the COP15 meetings in Copenhagen as Communications Director for Third Planet, a non-governmental organization (NGO) non-profit foundation, along with Third Planet's President, Robert Farmer. We are endeavoring to post our daily impressions of the conference. It has already become apparent that this is a large undertaking because of the amount of activity packed into each day. However, we shall do our best …
Not quite Day 1. Yesterday was largely ceremonial, but now we're into Day 2 and the work of the Conference really begins.
We started Day 2 by catching the bus near our hotel and enjoying the scenery while commuting to Copenhagen's city center with the locals. From there we boarded the metro and travelled to the conference headquarters at the Bella Center, a total journey of about 30 minutes.
I am amazed by the sheer volume of cyclists here – there is a dedicated cycling lane curbed from the motorized traffic, and it is very well used by business men, business women in high heels, and school kids alike. There are bicycle shops everywhere. We even saw a fellow cycling home with his Christmas tree in the bicycle's basket. But I digress …
Having taken care of all the preliminaries of registration exceedingly late on Sunday evening, today we were able to head straight for the entrance security, past lines of hopeful late-arrival registrants.
Everything is very streamlined and well run. Security is tight and efficient. It's like going through airport security (belongings into baskets, belts off, computers out, etc.), but lines move quickly and everyone is in a friendly and hospitable mood. (We have this daily airport security check to look forward to.)
There are well over 30,000 people attending in a facility designed for 15,000, so the UNFCCC issued a statement that if necessary they will be limiting the numbers of delegates from each organization. Our registration ID barcodes are scanned after we pass through security – this is how the UNFCCC controls the number of delegates from each organization.
We check our coats and proceed with the peaceful throngs through to the large open general congregating area. Along the way we pick up the official UNFCCC Daily Programme giving us the scoop on the day's activities. We pass two large groups of indigenous peoples singing to the crowd to attract attention to their cause.
The television news interviews you may have seen from the COP are recorded on an open sky bridge overhanging this central area. Far below them, in a sea of people at café-type seating at round tables, we nab a rare vacant table along the walk leading to the main Plenary area in the Tycho Brahe hall. We are surrounded by country delegates planning their strategies for the upcoming plenaries. Laptops are everywhere, as are semi-depleted cups of coffee and bottles of water. And croissant crumbs.
Everyone within sight is working. Delegations, discussion groups, etc. People seem to be very calm, not hurried but purposeful.
The rest of our morning is occupied with studying the Programme and the accompanying literature we've accumulated so we can strategize our conference plan. After a very good cafeteria-style Danish lunch of endive and orange salad, scalloped potatoes and baked stuffed chicken breast (imagine cooking for 30,000), we head over to Hall H where the Side Events rooms and Exhibits Hall are located. We spend the afternoon visiting the booths, collecting relevant reference materials, and engaging the exhibitors in dialogue.
Groups of young people are seated in circles here and there on the floor holding impromptu discussion groups. Many sit cross-legged working away on their laptops: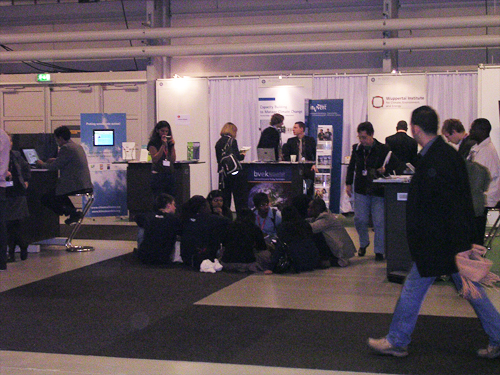 Today there are a lot of organizational meetings (adopting agendas organizing the work for the session, election of officers for the session, etc.) going on, involving the subcommittees under the Framework. Here's a peek through the door at one of the Side Events taking place in the Exhibit Hall:
For a more indepth look at just what is going on at the COP15 meetings, please see Robert Farmer's post on the Third Planet blog: https://thethirdplanet.org/blog/2009/12/cop15-communique.html.
Our evening was spent back at the café table area working on our computers, surrounded by even larger tables of delegates planning their strategies. We learn from a lovely young journalist, Jaspreet Kindra of the United Nations Integrated Regional Information Networks (IRIN) that the large group is from Mali, and the other group is from Zambia. Jaspreet has been accompanying the Mali group all day to get an interview and when the group breaks up the Ambassador is ready for her interview. It's now about 8 o'clock in the evening and we're ready to call it a day.
We head for the coat check, then on to the Metro to return to the hotel. A woman next to us is wondering if she's on the correct train. We get to talking and find out she's a Party delegate from Israel – who is staying at the same hotel as us – and what's more, she's from Jacksonville (moved to Israel 30 years ago) for heaven's sake! Small world. The three of us cover a wide range of subjects on our way back to the hotel by train then bus.
It's been a long and stimulating day. Tomorrow (Wednesday) we are scheduled to take an Energy Tour – can't wait to see what the day brings.