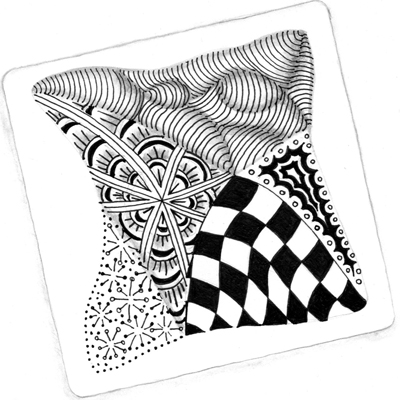 Recently CZT® Laura Harms started a fun weekly Zentangle® challenge and it's open to everyone to participate. To date these are the topics she's posted:
Here's my own challenge for you: tangle your name. Here's how:
First pencil a border and a string on your tile. Preferably using the Zentangle® tile format of 3.5″ x 3.5″  (9 cm x 9 cm) square – I traced an actual tile into my sketchbook. Make sure to divide it so you have the same number of enclosed sections as there are letters in your name. I needed 5 sections in my tile for my first name.
Then, using "official" patterns only for this challenge (here are the ones posted on my TanglePatterns.com site), fill each section with a pattern whose initial letter begins with the letters of your name.
I used:
L = Lace (with a little embellishment – no instructions online, I used Sandy Bartholomew's AlphaTangle for my guide)
I = Isochor (no instructions online, ditto re AlphaTangle and without the little black beads)
N = Nightsbridge
D = Drupe, and
A = Ahh
This is one you can do over and over again, choosing different patterns and strings each time.
There are all kinds of possibilities with this concept because you can tangle any inspirational word you like … hmmm, think I'll start with LOVE.
Now that I've finished my own challenge, I'm off to tackle Weeks 1-4.